Services
Parrish Trucking provides reliable local, regional and national service with authority in the 48 contiguous United States. The diverse fleet of company-owned trucks and trailers offers full truckload (TL) and multi-stop delivery to meet any customer's needs.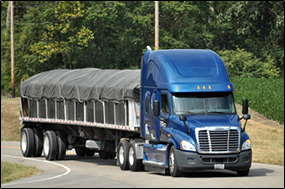 By combining trustworthy drivers, satellite tracking technology and a dedication to customer service, Parrish Trucking consistently delivers damage-free, on-time shipments.
Parrish Trucking, a member of the American Trucking Associations (ATA), offers a variety of trailers to handle any freight request:
Van
Flatbed
Drop-deck
Open-top
Refrigerated
Dump
The fleet also includes flatbeds with accompanying forklifts for ease in delivering palletized loads.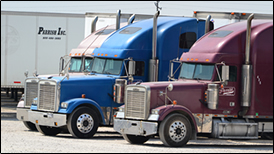 Parrish Trucking employs the PeopleNet fleet management system to track deliveries and drive efficiency for its customers. The company uses McLeod Software's Electronic Data Interchange (EDI) solution, providing paperless transactions and improving load accuracy.
Parrish Trucking can also provide cross-docking services at its Freeburg facility which is 30 miles from St. Louis, MO. Parrish can quickly transfer cargo from one transport to another, reducing storage and handling costs and streamlining their customer's supply chain.
Locally, Parrish Trucking's dump trucks are available to haul all types of aggregate for driveways or agricultural use. The company also has special spreaders for distributing limestone on fields or other surfaces.